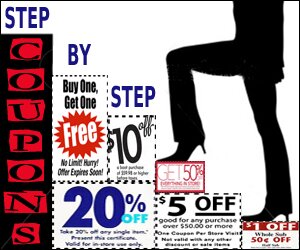 I want to apologize for this post not going up sooner, I worked this week and was just exhausted each night. I didn't get the time to write like I had hoped. I am sorry but given my situation, I'm sure you understand.
After reading Step 1, we have collected a variety of coupons and now it is time to organize.
Organization of your coupons is a vital step to this process. If you can't easily access the coupons you need, when you need them, you are not going to keep using them. It is important to be able to get what you need when you are in the store and just spotted what you think might be a great deal. Finding the coupon once you're home is very frustrating, trust me.
There are commercial holders that you can purchase as well. The Coupon Wallet (I was supposed to be receiving one for review and one for a giveaway but as of right now, I have not heard from then since early February), The Couponizer, The Price Planner (I used this for awhile, it was a great organizer until I outgrew it. Then it was so full, it couldn't be closed. I wasted a lot of money on this item.), and Ms. A's Coupon Organizer  (again, I was told a product for review was on its way and one for a giveaway but I have not heard from them in a few weeks) are a few of the commercial organizers you can find through a Google search.
These can be very easy to use but what works for one person may not work for another and I'd hate to waste $15 or $20 trying to figure out what would work for me.
I prefer to use items that I already have in my home or can purchase for pennies. All of the truly successful coupon organizers appear to be developed by the user anyways.
A simple accordion folder is for the person who buys only 1 paper insert each week or may only coupon for their heath and beauty products.
With this method, you file your coupons based on categories that are either predetermined or you devise yourself. They can be purchased very inexpensively, usually at the dollar store or often times the dollar spot at Target.  It is light weight, easy to transport and easy to use.  However, if you are going to use more than a few coupons, and I hope you will, the small accordion folder is going to fill up quickly.
A medium sized accordion folder, like the plastic ones you can find at Office Max for just a couple of dollars are great if you use two. One for food and one for non food items. This makes them easier to transport than a larger accordion holder. I have a good friend who uses her plastic folders and it works very well for her.
A file box use to be an organizer I used. It organized the coupons well, right up until I dropped it and hundreds of coupons fell to the floor.
Similarly, I have seen people use shoe boxes, photo boxes, plastic shoe holders and even tackle boxes to hold their coupons. These are organized well and probably work great. But are the transportable? What happens when it falls out of your cart? This is not an organizer for me.
A larger accordion folder like the one I used up until a few weeks ago is great. But once I began purchasing 4 inserts a week, it became very difficult to close.
The system that I use has worked for me for well over a year and I've been very pleased with it. I came up with the categories that made the most sense to me and then subdivided those. For instance I have a dairy category but within dairy there is yogurt, cheese and butter.
For each Main Category I put that into a slot in the accordion folder and then inside the slot, I put a small #6 envelope labeled with a sub category. This way I could very quickly find any coupon I needed. Whether at home or in the store it never takes me longer than a few seconds to find the coupon I am looking for.
Tip: If your enevelop is too full of coupons, it might be time to break it down into more envelopes. The idea is to find what you need quickly.
As part of this post, I wanted to review a number of products and provide you with my opinion. I received just one and I want to tell you about the coupon organizer I received from Glowgirl Fibers. I received the Mega Large Coupon Organizer (isn't the fabric great?) and I have been so very happy with it since the first day I used it.
The bag is constructed well, the cover flap is thick and sturdy. The bag is the right size for a couponer like myself (I purchase 3-4 inserts per week). I had plenty of room left over to grow. As a matter of fact, for awhile I did have quite a few coupons in mine and I liked it even more the fuller it got.
This organizer has a button on the back that can be used with the cover flap to attach to the shopping cart seat back. This way it won't go anywhere, no need to worry about it falling to the floor and your coupons scattering. I loved this feature.
In the pictures this organizer shows loose coupons but I think envelopes exactly like what I use is perfect for this. No coupons can slip out of their section and end up underneath a divider (as sometimes happens with this type of filing methods). The envelopes eliminate that issue.
Tip: Have envelopes for each store you go to. When you find a coupon for a specific store, put it into that envelope. You'll never forget to use a coupon that way.
The is yet another orgainizational tool that works for many coupon users. It is for those that buy multiple inserts and cut out every coupon in them. They are big, they are bulky and they can be heavy.
I used a binder for quite sometime and while in the store, it was great. However it was big, bulky and incredibly annoying to transport into a store when you aren't sure if you'll need it or not. More times than I can count, I just left it in the car.
Take a look at about her binder. 
HUGE isn't it? Personally for me, it's entirely too big. It's not transportable for my lifestyle and that makes it impractical. I want a coupon system that is easy to transport and can stand up to my clumsiness.
For me the system that works best is the one I'm currently using. You will need to evalute your coupon usage and what your needs are to see what will work best for you.
And as a way to help assist you in this process, Glowgirl Fabrics has kindly offered up the Mega Large Coupon Organizer to one lucky reader of The Debt Princess.
There are a number of ways to enter this giveaway. You may do all of them or you may choose to just do one. At the end of this giveaway a random entry will be selected via Random.org.
If you have won a giveaway from The Debt Princess valued at more than $20.00 in the past 90 days, you are not eligible for this giveaway. Please wait and try again the next time. Thank you.
To Enter:
Mandatory Entry: Visit Glowgirl shop and then come back & leave a comment about your favorite item.
Extra Entries
1. Follow this blog via email subscription, RSS feed or GFC. Choose one and leave a comment that you have done so.
2. Follow along with my tweets on . (If you already are, just leave a comment saying so.)
3. "Like" The Debt Princess on . (If you already are, just leave a comment saying so.)
4. Tweet the following on twitter (you may tweet once a day until the giveaway ends, please return here and leave a comment stating the time & Twitter account that the tweet came from):
Enter to Win a Coupon Organizer from @Debt_Princess & Learn how to Coupon Step by Step http://tinyurl.com/62meh87 Ends 4/1 #giveaway
5. "Like" Glowgirl Fabrics on .
Giveaway ends April 1, 2011 at 11:59pm EST. Good luck!
Please come back next Friday when Step 3 of Coupons Step by Step is up!
If you like what you are reading, sign up to