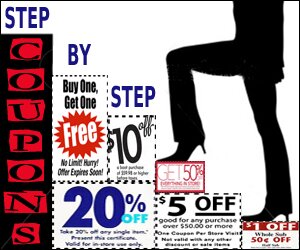 Coupons allow you to save money when they are redeemed. But did you know that just using a coupon when you buy the item is not coupon savvy?
Successful coupon users know that sales are cyclical. They know that (roughly) every twelve weeks items rotate through different price ranges until eventaully hitting their lowest rock bottom price. Knowing when to use a coupon and when to hold on to it, is paramount to being a successful coupon user.
It is just this simple; Gather the coupons. Save them until you find the rock bottom price. Match those coupons with sales, bonus deals and rebates. Shop and watch your savings increase while you out of pocket expenses decrease.
Throughout the next month I will discuss each of these simple steps. I will provide you with my experience in the years I've been using coupons and link you to sites that will make your life a lot easier!
Today, let's talk about gathering all those wonderful, money saving coupons!
The easiest and most simple way of getting coupons is your Sunday paper. Sunday papers can have anywhere from 1 (although on a few occasions, none) to 4 inserts depending on the week. There are three main inserts: Red Plum, Smart Source and P&G. Proctor & Gamble only comes out once a month, usually the first week of the month and typically the coupons will expire by the month's end. Occasionally Smart Source or Red Plum will put out two inserts during the same week. Typically it will only be 1 Red Plum and 1 Smart Source each week.
It's always good to know how many inserts there will be before going out to buy the newspapers. You can find that out by going to The Sunday Coupon Preview.  Knowing this helps when you are at the newstand and are picking up the papers, you ALWAYS want to check through the inserts to make sure that all the ones that should be included are there.
Tip: Know which papers in your area carry which inserts by checking out this site.
I buy between 3 and 4 papers a week, depending one what I see in the coupon preview. If I were a single gal, I'd stick to 1 or 2. The reason I say 2 is because frequently you'll come upon a deal that is Buy one, Get one free (B1G1) and in many stores you can use two coupons. You wouldn't be able to do that if you only purchased 1 insert. We'll talk more about knowing which store accepts coupons that way, later in the month.
Another reason I buy 3-4 papers; I like to stockpile. Stockpiling is buying items in larger numbers than you normally would and saving them for a later date. I do not stockpile in huge numbers like what you saw if you watched Extreme Couponing. I only stockpile enough for what we use in about 3 months. For example, we go through A LOT of peanut butter and jelly. I would say, about two jars of both a month so I should have 6 jars of both peanut butter and jelly in my stockpile. We'll talk more about stockpiling later this month.
Another way to acquire coupons is from coupon clippers. Coupon clippers are people who clip the coupons themselves and then sell their time. It is illegal to sell coupons so you are paying for them to cut them, organize them into neat piles and mail them out to you.
I love coupon clippers when there is a great coupon out there. Just this past week I used one from eBay. I wanted a particular coupon, she had packs of 10 on ebay and the time for her clipping service was inexpensvie. She shipped immediately and I received my coupons just in time for the end of the sale.
Coupon clippers can be found, as I stated on ebay but also from their own sites. The one I use regularly is Coupon Dede because she sells whole inserts and for my money, I think it's the best bet. Occaisionally I will buy several individual coupons but typically I prefer whole coupon inserts.
Tip: There are other coupon clipping services out there, just do a quick google search and you will find many others. Sometimes it's best to use one closer to you, to help with shipping time.
One more way to locate coupons is from online coupon sites like Coupons.com, Cellfire, Red Plum and SmartSource. Usually you will be able to print 2 of each coupon listed on their site. This is a great way to catch coupons that were not available in your region but were in other parts of the country.
Warning: This is very heavy on your printer ink. Something to consider is only printing in black ink and looking for great deals on printer ink (that's a whole other blog post). 
Two final ways to locate coupons is from the companies themselves. If you have a product that you love and buy regularly, follow them on twitter, like them on FB, request samples and coupons from them. They will be happy to provide them to you. Be sure to sign up for my email list Deals, Steals & Free Meals, I will provide links to free samples and those almost always come with more coupons for you to purchase the items.
Be sure to look throughout your store. It's my 5yr old's job to find coupons on either tear pads or blinkies (those machines that blink and have coupons sticking out of them) and any other place he can find them. Occasionally the Coupon Fairy even leaves them by the items I'm getting ready to buy. (The Coupon Fairy is someone who's left a coupon they aren't going to use on the shelf next to the item.).
Tip: Another great way to get more coupons is by asking friends, neighbors and relatives to save them for you. I have even been known to walk around my neighborhood on garbage night and take them from recycling bins. (I draw a line at dumpster diving though!)
Do you feel armed and ready to go get your coupons? It's Friday, go check out The Sunday Coupon Preview and Hot Coupon World to see what's coming up on Sunday. Then on Sunday, go out and get em! We'll talk about organizing those babies next Friday.
I have a special giveaway for everyone who has read this post. Leave a comment telling me what you think, if I've missed something, or what you've learned. I'll use Random.org to select 2 lucky winners who will receive $5 Gift Certificates from me for Coupon Dede's website. This giveaway ends Thursday March 10th at 11:59pm EST.
I also blog at A Five Star Life. I write about anything that comes to mind but try to focus on finding the good in daily life.