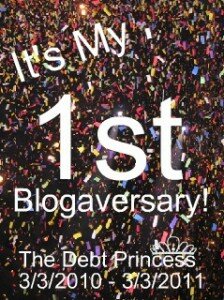 Raise your glass of whatever your pleasure may be and let's toast!!
I, The Debt Princess, the one who never completes anything. The one who gives up and starts something new. The one who prefers to ignore things rather than tackle them. The one with the killer dimples! Has been working on this blog for one full year!!
*applauding may commence*
Yup that's right! It may not yet be considered a success and it may not bring in any income BUT it has helped me and that was my ONLY goal for it one year ago today! I started this blog on a whim while tears were still wet on my cheeks. Today I sit here confident that I can continue this another year and eventually fulfill my dreams of taking this little blog farther!
Today's Blogaversary Scavenger Hunt Question is:   In my head, what is the root of all evil?
Good Luck! You have until 9pm EST to post your answer!
I also blog at A Five Star Life. I write about anything that comes to mind but try to focus on finding the good in daily life.