This is my 200th Post!!
After 2 years of blogging, I have finally reached 200 posts! It's also my Blogaversary Month! Stay tuned for more information about a Blogaversary celebration coming up!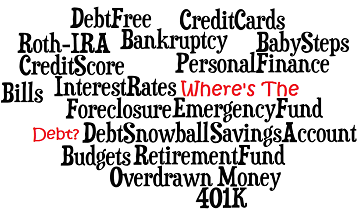 It is March 2012 and here is where the debt is:
Dell Mastercard – This account is owned by my mother but I have been making payments on it as it is for my laptop (which is about ready to die, gotta love Dell!) The balance is $254.00 SO CLOSE! I hope to have this paid off by May.
Mastercard – $325.60 again Getting so close to paying it off!
The remaining debts total around $16,000 still. I'm going to start tackling my Capital One account next. My current plan is to save up a few hundred dollars from my snowball (which is currently about $100) and start offering it to companies as a debt settlement. I'm working with SpringCoin to put that money aside.
Debt settlement is not ideal and I do not want to do this but with accounts as delinquent as mine and an income not yet adequate, it is either debt settlement or bankruptcy. I am already being sued by one company and I'm hoping to clear it up with a settlement payment in the upcoming months.
In an ideal world, I would be following Dave Ramsey's Debt Snowball method and paying back every cent I owe. (Well in an ideal world, I would have be smart with my finances to begin with and never gotten myself into this mess, twice.). However, this is not an ideal world. I am a single mom, going to grad school and working full time as a freelance writer (but not yet earning a full time salary.). Funds are still limited.
My Emergency Fund has been depleted. It happened to me the last semester of school. Money gets thin closer to the end 0f the quarter, just before I get my next student loan installment.
Income – Ideally, I would be increasing my income and I was well on my way to doing so in the past month. However, a well paying job that I had ended abruptly by the employer. They are working on a more efficient way to accomplish their task. While I welcome the efficiency, I miss the income! Hopefully that will pick back up soon and I can increase my income.
I have also taken on a few more freelance clients. I am a staff writer for a number of websites and blogs. I either write articles to go on their sites or I write guest posts to be published on other sites. (This helps them spread the word about their site.). I was swamped with school work in the past couple of weeks so I didn't work as efficiently as I would have lacked with my current clients. I fully intend on kicking butt with that during March. This will increase my income for March as well.
If you have a need for a freelance writer, Hire Me!
And that is where the debt is in March 2012.
Post Footer automatically generated by Add Post Footer Plugin for wordpress.
Disclosure: You should assume that I am an affiliate for providers of goods and services mentioned on this website. I may be compensated when you purchase after clicking on a link. I may also have received the product for free. Perform due diligence before purchasing from this or any other website.