This is a guest post. I hope you enjoy it as much as I did!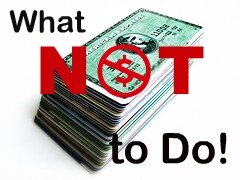 Hello Debt Princess Readers! My name is Carrie Smith and I'm the financial blogger over at Careful Cents. I've been an accountant for 10 years and worked in different areas of the financial industry. However, that doesn't mean I always made smart choices when it comes to handling my money.
Like Jessica, I've learned a lot of lessons of what NOT to do with my finances. Here's the 3 most embarrassing mistakes I've made over the past decade.
1. Trying to build too much credit too fast
Like most high school students, I didn't have access to learn how to properly handle my finances. My only role models were my parents and my friend's parents. So instead of letting my credit build organically, over time, I decided to build it way too quickly.
I took out a small loan from the bank, which my dad co-signed with me, for the sole purpose of repaying it within a year just to build my credit history. I put my dad in an awkward position as the cosigner (thankfully though I paid all the money back) and I spent way too much money on interest.
2. Becoming asset rich and cash poor
I couldn't wait to move out of the small apartment with my roommate and purchase my first home. I didn't have any money saved up, or any money to put towards the down payment. But I didn't care! I wanted to be independent and I was approved for the mortgage loan, so I figured I could afford it.
At 23 years old I became a first time home-buyer and found out the true meaning of "biting off more than you can chew". I could barely pay the property taxes, insurance and the mortgage payments. This was right around the time the housing market had peaked, and within 2 years I basically sold the house for what I paid for it. Being a home owner requires much more time, money and stress than I originally calculated. So for now, I'm much happier being a renter.

3. Trading a paid for car, for a "better gas mileage" car with a monthly payment
I have no idea how I came up with the idea to trade-in my paid for Jeep Liberty, for a smaller car with a car payment, just to get better gas mileage. When I did the math, it made sense on paper. With the amount of money I'd save in gas, I could offset the monthly car note.
What I didn't calculate was the higher car insurance payment, the interest rate I'd be paying to the bank and the added risk of driving around a car with a payment. Sometimes what looks good on paper, doesn't always take into account the emotional stress involved.
The biggest lesson I've learned
There is no greater teacher than life itself, but to be honest, learning from experience sucks. It's much easier to educate yourself or learn from other people's mistakes, than to learn everything on your own. Of course I've learned lots of other lessons in what not to do with money, but I've definitely become better at making smarter choices.
Thanks for this post Carrie! It was a great read.

I also blog at A Five Star Life. I write about anything that comes to mind but try to focus on finding the good in daily life.