What Not to Do is a series based on the numerous mistakes that I have made in my life. I am not a financial adviser, I can't tell you want to do but I can tell you what NOT to do. I hope you will use this series of posts to help educate those you love about the dangers of debt and how they can affect your life. Use the trouble that I have gotten into as a springboard for your own discussions, please.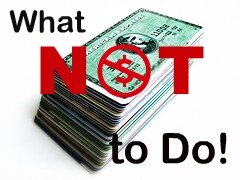 40 years ago my parents graduated high school and got married. They couldn't afford a house early on in their marriage so they worked hard for a number of years, living in small apartments and with my grandparents for a short while.
When I was 5 years old, 7 years into their marriage, my parents purchased their first home. It wasn't in the nicest neighborhood (in fact, it was in a rather poor neighborhood and directly across the street from the railroad tracks). Their goal had always been to move up into a nicer home when they could afford to.
Fast forward 30 years or so and the trend is to do the exact opposite. Couples are marrying and quickly buying houses. Television shows like House Hunters on HGtv glamorize this process by highlighting couples who 100% finance their homes.
Most parents want to give their children more than they had but something happened with parents in the past 20 or so years. They started giving their kids more than they had and buying it before they could afford it.
These children grew into adults who felt they deserved anything they wanted and they deserved to buy it immediately.
I think there are numerous reasons why a large portion of our society began to live above their means.
Predatory lending.

The decline of the economy.

The increase in technology.

Lack of financial education.

Less cash on hand.
I'm sure there are many other reasons that i can not even fathom. The point is that we, as a society have been thinking that debt is normal and living above our means is causing that debt.
The Alternative
There is another way to live and it's really not difficult. The best way to avoid living above you means is simple.
Budget your money.

Save for items you want.

Shop smart. Work your way to higher quality items.


Understand the difference between wants and needs.

Take the time to learn the psychology behind why you spend money the way you do.
I spent years living above my means. I shopped without thinking about the consequences. I convinced myself that I deserved everything I purchased. In the end, I lived an unhappy life and eventually lost everything.
Now, I take pride in the fact that my furniture is used and one day in the future I'll be able to save up and buy the higher quality items.
Remember to speak to your children and about saving up for what you want. Make sure they know that it's ok to buy something at a yard sale or thrift store. And most importantly, be sure you are practicing what you preach and set a good example.
Living above your means, it is what NOT to do.
I also blog at A Five Star Life. I write about anything that comes to mind but try to focus on finding the good in daily life.